In this section you will find TUAC policy statements, evaluations of the outcome of major OECD meetings, comments on OECD policy recommendations and OECD reports and press releases.
NEWS
TUAC and BIAC jointly call for action by OECD
on Corporate Responsibility in China
(December 2006)
On 7 December TUAC and our business counterpart BIAC released a joint statement on the OECD work programme: "OECD & Chinese Government Approaches to Corporate Responsibility".
The objectives of the programme are threefold:
1. "to raise the level of awareness by the Chinese authorities of internationally recognised principles of responsible business conduct at home and abroad as contained in the OECD Guidelines for Multinational Enterprises."
2. "to secure explicit commitments in public statements by the Chinese authorities to the promotion of observance by Chinese enterprises of standards of responsible business conduct compatible with the OECD Guidelines for Multinational Enterprises. They would be expected to also encourage the use of measurement tools to provide a benchmark against which to gauge actual business conduct of Chinese enterprises."
3. "Over time, [...] to lead to more responsible business conduct by Chinese enterprises operating in China, in OECD Member countries and in third markets."
The activities to be implemented in 2007 will include: drafting of an OECD background report, organisation of a multi-stakeholder symposium and development of a "corporate responsibility index" to measure changes in business conduct in China.
Both BIAC and TUAC called for this work to be adequately funded by governments and to be fully consulted on the work.
To read the joint statement click here:

TUAC delegation at OECD Liaison Committee meeting calls for OECD to insist on "Responsible Globalisation"
In his address to the OECD Liaison Committee on December 5, TUAC President John Sweeney called on governments and international institutions to adopt economic policies to promote decent work and sustainable development. He argued that otherwise globalization would produce even greater inequality. He pointed to the richest country in the OECD – the US, where workers are suffering a generation long stagnation of wages and experiencing a level of social insecurity not felt in half a century. Simply championing free markets would not produce a just distribution of income and wealth. Governments had to put in place the proper regulations and economic policies to create jobs and link the creation of decent work in the 'North' with the same objective in the 'South.'
The TUAC discussion paper prepared for the meeting addresses three particular issues that are inextricably linked to decent work — jobs, growth and migration.
To Read the discussion paper click here:

TUAC Plenary Session supports Australian union
on Labour Rights
The TUAC Plenary Session meeting on 5 December welcomed the report of a successful national day of protest in Australia on 30 November, organised by the ACTU and supported by TUAC affiliates and Global Unions, against the Howard government's workplace relations laws that violate core labour standards.
TUAC noted the evidence of growing public support in Australia for ACTU campaign on "your rights at work" and encouraged affiliates to maintain international pressure on the Australian government until these anti-union laws are changed.
More information is available at www.actu.asn.au
Council of Global Unions formed to promote union action
One of the first acts of the newly founded International Trade Union Confederation was to ratify an agreement with the Global Union Federations and the Trade Union Advisory Committee to the OECD (TUAC) to form a Council of Global Unions.
The Council aims include promoting trade union membership and advancing common trade union interests worldwide through enhanced cooperation.
The Council will enable us to mobilize global membership around political and strategic initiatives and actions in order to confront global forces that work against the interests of working people and families, Guy Ryder, the newly elected General Secretary of the ITUC said today.
Global Union Federations represent workers in the different economic sectors, from education, public services, manufacturing to retail and the media.
We will use this enhanced cooperation to tackle major questions of organising and concerted campaigning. We need to combine our strengths better, and this new Council will allow us to achieve this, said John Evans the Secretary of TUAC.
Unions, Climate Change & Employment
A COP12 Side Event – Saturday November 11, 2006 and hosted by the International Trade Union Confederation (ITUC).

Ambitious climate policies could be implemented with overall positive employment benefits, according to a 11 EU-nation study.Sophie Duressoir of the European Trade Union Confederation (ETUC), which coordinated the research, said at the international unions' Side Event on Saturday that massive job growth was forecast in sectors like renewables, but some areas, like electricity generation and road haulage could face difficulties. "Employment transition" measures are therefore essential for social acceptance of climate policies", she said

Ian Pickard from the UK government delegation said stakeholder engagement in policy development was a key part pf the UK strategy. The Trades Union Confederation's (TUC) green workplaces project also demonstrated concrete action to tackle energy use at work.

Ana Belen Sanchez spoke about the Spanish Government's tripartite social dialogue, set up in 2005 to plan commitments to meet its national carbon allocation plan. Consultations over 1,000 installations in seven industrial sectors have already taken place.

Daniel Van Daele from the Belgian unions said they were able to turn the government's CDM tender process into a true tool for sustainable development by incorporating social criteria – such as respect for Conventions of the International Labour Organisations (ILO).

Lucien Royer for the International Trade Union Confederation (ITUC) who organized the event, told the 50 delegates present that the union strategy combined research and policy making with concrete action in the workplace and across its membership.

But building capacity among African unions was now a crunch issue, given their key role in disseminating information and encouraging engagement among their Millions of members across the continent.

Contacts

Sophie Dupressoir [sdupressoir@etuc.org]
Lucien Royer [royer@tuac.org]

More Information

•

An up to date compilation of COP12 trade union news:
http://www.global-unions.org/pdf/ohsewpP_8Aa.EN.pdf

•

T.Union COP12 Submission:
http://www.global-unions.org/pdf/ohsewpP_8Bh.EN.pdf

•

T.Union COP12 Bullet Points:
http://www.global-unions.org/pdf/ohsewpP_8Bg.EN.pdf

•

Trade Union Country-by-Country UNFCCC COP12 Energy Profiles
http://www.global-unions.org/pdf/ohsewpP_8Bi.EN.pdf

•

Trade Union Sustainable Development Unit
http://www.tradeunionsdunit.org/profiles/
New International Trade Union Confederation (ITUC) Adopts
Environment, Worker's Health & Sustainable Development Priorities
(Vienna, Austria - 3 November 2006)
Nearly 1,700 representatives attending the historic founding Congress of the International Trade Union Confederation (ITUC), which brought together two previous global bodies [*] within a single organization this week, supported a resolution that sets the priorities for the international trade union mouvement to work on the environment, worker's health and sustainable development.
The adopted resolution establishes public and occupational health links to trade union environmental and sustainable development implementation through workplace, community and national actions. It also provides a mandate for trade union work on these issues with the UN Commission for Sustainable Development (CSD), Organisation for Economic Cooperation & Development (OECD), International Labour Organization (ILO), World Health Organisation (WHO), United Nations Environment Programme (UNEP) and the UN Framework Convention on Climate Change (UNFCCC).
Founding Congress Side-Event Sets the Stage for Cooperation
The adoption of the resolution followed a Congress side-event held yesterday entitled, "Labour & Environment: Collective Commitment to Sustainable Development", where delegates heard about the progress made on sustainable development at and since the Global Trade Union Assembly on Labour and the Environment held in Nairobi, Kenya last January 2006.
The side-event was chaired by John Evans, the General Secretary of the Trade Union Advisory Committee to the OECD (TUAC) and hosted by Sustainlabour. A number of speakers highlighted the significance of the new directions.
Mr. Guy Ryder, the newly elected ITUC General Secretary: "The adoption of our resolution ushers a new era of trade union activism for sustainable development, worker's health and environmental protection and to our overall programme of work for trade union rights and campaigns for asbestos and HIV/AIDS".

Mr. Willy Thijs, the former General Secretary of WCL: "It is instrumental that the sustainable development agenda be visibly connected to the areas of work adopted by the new organization and be made to integrate the social dimension through concrete steps in workplace practice and in international trade union policy".

Mr. Jim Baker, the Director of ILO-ACTRAV: "The ILO looks forward to cooperate with the ITUC in response to the Congress Resolution and its own mandate. Standard setting and supervision is at the heart of the ILO's mission. Through its tripartite structure it is contributing to social justice, economic growth and environmental protection. There can be no sustainable development without decent work."

Dr Maria Neira, WHO's Director for Public Health and Environment "At least one fourth of the global burden of disease, death and human suffering can be prevented through interventions in the living and working environments. This can happen only by the united efforts of all social actors. The health of workers is an essential prerequisite for sustainable human and economic development."

Ms Cristina Boelcke of the UN Environmental Programme (UNEP): "Addressing the collective challenge of preserving the world for future generations is our common cause. The engagement of stakeholders and citizens is crucial in dealing with key environmental questions. UNEP is committed to its engagement with workers and trade unions in addressing this challenge". [A new publication by UNEP, "Labour and The Environment" will aim to promote a common platform for action by workers and trade unions as agents of change towards sustainable development. The publication will also review aspects of just employment measures that will be needed to implement sustainable development policies.]

Mr. Joaquin Nieto of the Sustainlabour Foundation: "It's more than just about building a new international trade union organization. Rather, it's about creating a new trade unionism that can respond to globalization trends and environmental destruction of resources. Our commitment to sustainable development and environmental protection is a crucial prerequisite for the eradication of poverty and promotion decent living and working conditions for all workers on our planet, including those of future generations."
The resolution calls on the ITUC to integrate the three pillars of sustainable development within its work, in concert with its focus on labour rights, gender equality and for equitable development. It also renews trade union commitments to a world ban of asbestos, the prevention & eradication of HIV/AIDS and the promotion of the 28 April International Commemoration Day (ICD) for Dead and Injured Workers.
Participants to the side-event received an updated version of last January's "Assembly Workbook", which will now be distributed to the affiliates of the new ITUC, as a primer for trade unions at the local level for implementing environment, workers health and sustainable development decisions taken by the founding Congress, including for work that relates to Global Union asbestos and HIV/AIDS campaigns.
[*] The ITUC now replaces the International Confederation of Free Trade Unions (ICFTU) and the World Confederation of Labour (WCL).
For more information, contact:
Lucien Royer
International Trade Union Confederation (ITUC)
Trade Union Advisory Committee to the OECD (TUAC)
15, Rue Laperouse - 75016 Paris, France
Tel (331) 5537 3737 Fax 4754 9828
royer@tuac.org
The English version of the Workbook (soon produced in French & Spanish) is available at:
http://www.global-unions.org/pdf/ohsewpO_6h.EN.pdf
A copy of the draft (now, adopted) ITUC Congress Resolution is available:
http://www.global-unions.org/pdf/ohsewpR_5a.EN.pdf
A new international trade union confederation is born
The 1 November 2006 has seen in Vienna the dawn of a new trade union international, a stronger and more united voice of workers' worldwide set to tackle the challenge of globalisation with renewed energy and hope.
As the culmination of a process that has inspired new hope in the face of huge challenges, the International Trade Union Confederation (ITUC) was officially formed at the Founding Congress in Vienna. It was preceded by the dissolution congresses of the International Confederation of Free Trade Unions (ICFTU) and the World Confederation of Labour (WCL). The new ITUC comprises the affiliated organisations of the former ICFTU and WCL together with eight other national trade union organisations that will for the first time affiliate to a global body. TUAC is a partner organisation of the new body.
The international trade union movement is adapting in order to remain a key player in an economic climate that is creating more losers than winners. The imbalances of economic globalisation are having a devastating effect on millions of workers. Off-shoring, abuse of workers' rights and increasing poverty are all examples of the negative impact of these developments.
'The creation of the ITUC will solidify the trade union movement's capacity at the national and international levels', declared Guy Ryder, the former General Secretary of the ICFTU and prospective General Secretary of the ITUC. 'Stronger, we will exert more influence on companies, governments and the international financial and trade institutions. The founding of the ITUC is an integral part of the process of uniting the power of trade unionism," he added.
John Evans, the General Secretary of the TUAC, told the assembly of over 1500 trade unionists to increase efforts on the ground and in the battle of ideas to secure more accountability from multinational enterprises and international financial institutions.
"We have a duty to ensure that there is no multinational that can foolishly boast that it is "union free", Evans said, warning there is no room in the global economy for anyone who cannot feed her or his family because of the lack of a decent job."
Trade union actions, he said, must take place at the grass roots but also in context of decisions by international organisations such as the IMF, the World Bank, the WTO, the OECD and the G8 that are shaping the environment in which unions operate.
Evans said the unification of the international labour movement is well timed and that a partnership through a new Council of Global Unions that will bring together sector and regionally-based organisation is well-positioned to complement actions of the new ITUC.
The TUAC provides a voice for trade unions at the OECD and other institutions, promoting the use of the OECD Guidelines for Multinational Enterprises and monitoring trade union rights abuses against the benchmark of ILO core in countries like Korea and China. TUAC also coordinates world efforts to promote sustainable development through development aid and employment, trade and investment policy of the world's most industrialised countries.
To read the full speech click here – to visit the ITUC web-sire click here.
Union
Mission to Korea calls for Respect of Workers Rights
Although the South Korean authorities claim that the situation in the country is acceptable, the government is far from implementing the recommendations of the ILO Committee on Freedom of Association according to a recent union mission to the country. The ICFTU, the Trade Union Advisory Committee – TUAC - and a delegation of the Global Unions Federations -GUFs - recently conducted a fact finding mission prior to the 14th ILO Asian Regional Meeting in Busan.

The labour situation in Korea is a matter of grave concern. Serious violations of workers and trade union rights are taking place, union busting is the rule and workers involved in peaceful rallies and demonstrations have often been victims of violence, twice with fatal consequences in the last year. Currently, more than one hundred workers are in prison simply for trying to exercise their fundamental rights.

The ICFTU/TUAC/GUFs mission called on the authorities for an immediate release of the trade unionists detained. It strongly condemned the violation of public servants' right to freedom of association, which includes a series of forced closures of many union offices in 2006. It also focused on the grave situation faced by construction workers, migrants and irregular workers, a category which represents the vast majority of the workforce. It is time for the government of Korea to honour and respect workers' rights as embodied in the ILO core labour standards and to fulfil the commitment given to the OECD in 1996.


To read the full report click here:

Trade Unions Launch Pioneering Sustainable Development Unit
(Paris, Tuesday 18 July, 2006)
A new trade union Sustainable Development Unit has been launched by the International Confederation of Free Trade Unions (ICFTU), Global Unions Research Network (GURN), Sustainlabour and Trade Union Advisory Committee to the OECD (TUAC).
The Unit website makes available the Trade Union 'country by country' profiles on a wide range of sustainable development issues: energy, climate change, occupational health & safety, 28 April International Commemoration Day (ICD) for Dead and Injured Workers, asbestos, HIV/AIDS, trade union rights, as well as corporate accountability.
The web-site is accessible at: http://www.tradeunionsdunit.org/profiles/
The new Unit will manage the growing demand for the now well-known trade union 'country-by-country' information profiling and help coordinate activities that relate to them. However, the Unit sees its role mainly as conceiving and producing internationally-linked, country-level information to facilitate trade union campaigns and lobbying efforts.
The TUAC coordinator for the Unit, Anabella Rosemberg, says that Profiling refers to the development of analysis of issues, based on specific groups of data that are entered into a database and maintained by the Trade Union Advisory Committee to the OECD (TUAC), as background information for all countries and selected regions, industrial sectors and specific company groupings.
"So many groups and institutions have now linked up to our profiling that we have become unable to update our reports on a consistent basis," says Rosemberg. "Now, updating our information will automatically update trade union web sites that are linked to the Unit, as well as others already connected, such as certain UN agencies, academic institutions or governments and coalition partners".
Rosemberg says that the Unit's aim is to step beyond collecting and providing groups of information for analysis. "We are already producing strategic, campaign-based, information formats that help trade unions set targets, monitor progress on issues and especially make changes in the world's workplaces and communities". She said the Unit has already produced special information reports for the 28 April ICD, asbestos and HIV/AIDS campaigns. "Next Spring we hope to produce a first-ever 'campaign workbook' with coalition partners on energy and climate change".
TUAC General Secretary John Evans expressed support for the Unit. Although it exists more in cyber space than in a physical place, TUAC has become the Unit's home. Evans says this is not surprising since there are strong connections with the Unit's work and the unfolding of the OECD and G8 policies on a broad range of issues, including environment and sustainable development.
Lene Olsen from ILO-ACTRAV who coordinates the GURN web site (http://www.gurn.info) says the Unit's web site will provide valuable information to trade union researchers, foundations and institutes from throughout the world and be linked to the GURN website on a consistent basis. She said that she hoped that the Unit's current Company profiling would become a dynamic resource for campaigners seeking to engage in making change relative to corporate accountability or industrial relations.
Sustainlabour President, Joaquin Nieto says the foundation is already making use of the profile information in undertaking education and training workshops held in Africa and South America. Sustainlabour helped pioneer country profiling by providing initial resources to produce the first-ever reports on climate change and other issues. "We look forward to integrate the Unit's profiling in international analysis, decision-making and national and regional-level workplace actions on sustainable development, as well as target-setting and reporting for environmental protection and the promotion of sustainable development".
Alexandre Gomes de Almeida of the ICFTU was the person responsible for designing the website, and is the Unit's backbone with respect to information management of the profiles and for advice on their related computer hardware and software uses. He sees the launching of the Unit as a first step in a very long process. "Currently, the website exists in its simplest form and provides the reports that people need," he said. "However, we are contemplating future developments that will eventually allow the users to create their own profiles, based on indicators they would select themselves, and to transform information into real live tools for social change".
Rosemberg cautions that the amount of data involved in the project and the sporadic financial resources does not allow the Unit to have a permanent fully updated website, at all times. "However, we will take things one step at a time, providing trustworthy information and ensuring that people understand the linkages between the availability of data and its implications in their field of work ".
For more information contact: Lucien Royer
Global Unions protest banning of Philippine anti-corruption organisation from UNCAC
(November 2006)
Three global unions have condemned what they see as a direct attempt by the government of the Republic of the Philippines to gag anti-corruption voices at the forthcoming first session of the Conference of the Parties to the UN Convention Against Corruption (UNCAC) that will be held from 10-14 December in Jordan.
Public Services International (PSI), the Trade Union Advisory Committee to the OECD (TUAC) and the International Trade Union Confederation (ITUC) have all expressed concern that one of the most respected anti-corruption organisations in the Philippines has been banned from the conference because one (unnamed) member state has used UN rules to object to the participation of the Transparency and Accountability Network (TAN). TAN is the main anti-corruption NGO in the Philippines - its website is http://www.tan.org.ph/files/home.asp - and is highly regarded by other anti-corruption campaigners in that country because of its fearless approach to identifying corruption.
In fact, according to Hans Engelberts, PSI General Secretary, "TAN has actually been formally recognised by the Arroyo government as a key voice of civil society in working with the government on these issues - until its very recent public criticism of what appears to be an attempt by the government to whitewash an official anti-corruption enquiry."
"It would be a bad start to the work of the UN on fighting corruption if the message given to civil society is that those governments at whom the accusations of serious corruption are the ones who can determine whether corruption is identified and tackled in cooperation with civil society," say the three union bodies. "This risks that the UN's work on the UNCAC starts where the discredited and discarded Human Rights Commission left off - that the criminals control the court."
PSI, TUAC and the ITUC have been working jointly on anti-corruption issues through their sponsorship of the union-based organisation UNICORN, which will be present at the conference. The three union bodies are all approaching President Arroyo with their allegations and asking her to confirm whether her government supports open, harassment-free discussion of corruption in her country or whether she supports the knobbling of critics and whistle-blowers. They will be asking her to do all she can to get TAN reinstated as an official delegation at the conference.
G8 Labour Ministers agreed to

promote social equity,
fairness, and justice
G8 Ministers of Labour & Employment met on October 9 and 10, 2006, in Moscow in order to discuss productive employment as key factor of economic growth and social integration. Their deliberations during the course of the meeting focused on how to create more and better jobs by improving the synergy between labour markets and social policy and strengthening lifelong learning. Consultations were held with representatives of trade unions and employer associations on the first day of the meeting at which a trade union statement prepared by the TUAC was presented and discussed. The meeting also received presentations from the Secretary General of the OECD and the Director General of the ILO. In their conclusions the ministers agreed to promote "social equity, fairness, and justice" and to develop labour markets that "combine flexibility with security and to respond to the challenges of globalization".
In order to improve employment opportunities for all group of workers, Ministers called for a removal of impediments to labour market participation as well as job search, notably by implementing well-designed welfare benefit systems and active labour market policies. Regrettably, however, Ministers failed to take into account that in particular institutional coordination and maintaining strong aggregate demand are of key importance for strategies successfully reducing unemployment and promoting employment.
With regard to the need to provide more and better training opportunities and to strengthen lifelong learning, Ministers emphasized the need to create more training and skills development programmes. They stated that "public policy should facilitate the development of partnerships among government, business, labour unions and non-profit sectors" and that "by stimulating investments in human resources, these social partnerships can facilitate more productive employment and sustained economic growth".
Moreover, Ministers drew attention to the importance of the social dimension of globalization and, in this context, the ILO decent work agenda as a component of a socially sustainable international development. Importantly, they also reaffirmed their commitment to the core labour standards as defined in the 1998 ILO Declaration of Fundamental Principles and Rights at Work. That is particularly welcome. However, in order to assure credibility of the G8 process, decisive and concrete action must now follow.
To read the chair's conclusions, click here

OECD Puts Industrial Relations
on Sustainable Development Track
(Paris, 16 October, 2006)
The OECD has issued a report that breaks new ground towards recognising the contribution that joint workplace activity and industrial relations can make to the process of change for sustainable development and environmental protection.
The Report results from an OECD meeting in March 2006 which brought together trade union, business and government experts from sixteen countries to consider ways in which joint efforts could bolster implementation of the Organization's Environmental Strategy. Delegations from the Business Advisory Committee to the OECD (BIAC) and the Trade Union Advisory Committee (TUAC) were coordinated through the OECD's Labour Management Programme (LMP).
The document contains a number of 'lessons' drawn directly from case studies brought to the meeting by business and trade union representatives, each describing how workplace actions were initiated through a variety of 'voluntary approaches' and how these had resulted in significant sustainable development outcomes.
The OECD "Report on a meeting of trade union and business experts held under the OECD Labour/Management Programme", Paris, 1 March, 2006 - is available at
* English: http://www.global-unions.org/pdf/ohsewpf_1.EN.pdf
* French: http://www.global-unions.org/pdf/ohsewpf_1.FR.pdf
The Report cites the statements of a BIAC representative from the EpE programme, who made a strong case for industrial relations in sustainable development by emphasising that "trade unions are a stakeholder in the company, and should be considered as such, but they are also a special kind of stakeholder because they are linked to the personnel of the company who have their own views on sustainable development from the outside."
This point is reinforced by statements from a Trade Union representative from Sweden, who presented a case study on the TCO 'Workplace Checker', which has proven to be an effective tool for workplace assessments. They are also supported by statements from a representative of the Canadian Energy and Paper workers who outlined the positive achievements made possible by a joint environment workplace committee created through collective bargaining.
In addition, the Report highlights instances of voluntary workplace approaches to the implementation of environmental policy that arose in the March meeting. For example, it summarises the history and analyses the functions of twelve 'Global Union Framework Agreements' as presented by a TUAC representative from the International Federation of Chemical, Energy, Mine & General Workers (ICEM). It similarly relates a national government framework agreement with Spain and its business and trade union organisations to implement the Kyoto Protoco which was described by a representative from the Comisiones Obreras (CC OO). These are reinforced in the Report by examples provided by BIAC representatives, one concerning joint efforts for the preservation of biodiversity and another relating to progress in environmental protection made by the aluminum industry.
The OECD Environment Strategy is available at:
English: http://www.global-unions.org/pdf/ohsewpf_2.EN.pdf
French: http://www.global-unions.org/pdf/ohsewpf_2.FR.pdf
In this briefing also:
* Climate of change at OECD for sustainable development, and
* Trade unions at upcoming OECD meeting in Poland
Early Childhood Education and Care: New OECD report sounds the alarm on the pressing need for governments to take action
Trade unions across the OECD have long campaigned for accessible, affordable and high quality childcare to assure children the best start in life that society can offer. Young parents are essential participants in the workforce, but their ability to work full time is often determined by the support they get in caring for their children. All too often they face difficulties in balancing work and family commitments. Many find it particularly hard to access the support they need in order to care for their children. Their difficulties reflect modified family and child-rearing patterns across industrialised countries. It is against that background that TUAC welcomes the publication of a further OECD review on early childhood education and care (ECEC), describing the social, economic, and conceptual factors as well as research influencing early childhood policy. The review, "Starting Strong II: Early Childhood Education and Care", outlines progress made by twenty OECD countries in responding to key challenges of ECEC policy. It also highlights examples of new policy initiatives adopted in the ECEC field.
In their conclusion, the authors identify ten policy areas for further critical attention from governments. Besides the objectives of increasing women's lab our market participation and reconciling work and family responsibilities on a more equitable basis for women, the need also to address issues of child poverty and educational disadvantage are key factors turning governmental attention to ECEC. That, however, has not yet translated into sufficient public spending on ECEC services. With the notable exception of the Nordic countries, OECD countries are underspending on early childhood education and care services, the review reveals.
The report found that because of underfunding, many of the ECEC institutions "are unable to provide regular in-service training and/or non-contract time for staff to improve their pedagogical practice." Moreover, child care staff in many countries are paid around minimum wage levels and in turn, "not surprisingly, staff turnover in the child care sector is high." The picture that emerges from the data is that in recent decades the position of ECEC in the labour market has changed for the worse. Sounding the alarm on the pressing need for governments to take action to improve working conditions, the review calls for a reversal in the decline in qualifications of ECEC staff. Governments must enable childhood education and care services to attract and retain the well-educated teaching force necessary for the provision of high-quality services. Spending on ECEC pays dividends: it improves long-term educational outcomes for children and delivers benefits to society that far outweigh the costs; reduces subsequent costs for education, as well as social costs; and increases taxes paid once children mature and enter the workforce.
To read more about the OECD report, please click here…

Joint call by TUAC and BIAC:
OECD should develop web-based solutions for its "Weak Governance Zone" tools and beyond, for the Guidelines for Multinational Enterprises.
On the occasion of consultations with the OECD Investment Committee, 12 September 2006, the TUAC and, its counterpart representing employers, the BIAC, agreed on a joint statement calling for the OECD to develop web-based solutions for the effective implementation of the recently adopted OECD Risk Awareness Tool for Multinational Enterprises in Weak Governance Zones.
The two official advisory committees to the OECD suggest that the Organisation draws upon an anti-corruption portal supported by the Danish Development Agency (DANIDA) and developed together with trade unions, business and other stakeholders, including the Danish TUAC affiliate LO-Denmark:
www.business-anti-corruption.com.
This Danish initiative could be a useful starting point for the OECD to develop its own web-based solutions, addressing weak governance zones and additional corporate responsibility issues, including the OECD Guidelines for Multinational Enterprises.
The TUAC supports the global union anti-corruption network UNICORN:
http://www.againstcorruption.org/
Joint BIAC-TUAC Submission to the Consultation with the OECD Investment Committee – Proposal Regarding Future OECD Work on Guiding Investors in Weak Governance Zones (WGZ).
Education Policy: The gap between rhetoric and practice
has not been bridged
Most governments of OECD member countries have failed to bridge the gap between the rhetoric and practice in education policy. Despite a broadly shared agreement on the ever growing importance of education and training, public expenditure on education in many countries did not grow as fast as GDP. However, a few OECD countries, among them Denmark and Sweden, managed to change public budgets in favour of education and training and to achieve an impressive employment and labour market performance. Both countries are also characterized by the fact that adult workers spend more hours in non-formal job related education and training that in most other OECD countries. High employment rates and low unemployment in both countries document that high public spending on education and training pays off. This has been revealed by the 2006 issue of "Education at Glance", the OECD indicators on education published today in Paris.
However, the updated indicators reveal also that education systems in OECD countries need to make a considerable headway in order to meet the demands of the emerging knowledge based economy. This applies in particular to financing education as well as to gender and equity issues. The overall increase of the proportion of individuals who have completed upper secondary education is good news. However, it masks remaining differences between countries and between males and females regarding educational achievements and its impact. Fir instance, in 18 OECD countries, the level of educational attainment of males is still substantially higher than that of females. Also they earn less than males with similar levels of educational attainment in all countries. And in all but six countries – among them France, the Netherlands and Portugal – men can expect to spend more hours in non-formal job-related continuing training and education than women.
Moreover, job related continuing training and education is also skill biased. Adults with higher levels of educational attainment beyond upper-secondary education are more likely to participate in non-formal job-related continuing education and training than adults with lower educational attainment. Those with low educational attainment are also more likely to be unemployed. It appears that people, who have not completed upper secondary school, and particularly women, continue to face serious labour-market penalties.
It is particularly disappointing to note that education systems in most OECD do not live up to claims made by policy makers to secure equity in learning opportunities. Social backgrounds continue to play a determining role with regard to student's learning opportunities and performance. On average across OECD countries, for example, students from the most socio-economically disadvantaged quartile of the population are 2 times more likely than their peers to be in the bottom quartile of performers. In order to prevent education from preserving existing class structures, trade unions are urging governments to give more attention to equality of education, to maintain it as a public good, accessible to all regardless of their background.
To read more about the 2006 edition of Education at a Glance, click here:

Why Workers Count in the Global Economy
TUAC President John Sweeney contributed an article to the OECD's Observer magazine on the challenge that the doubling of the global labour force presents for workers in the OECD countries. Read the article at: http://www.oecdobserver.org/news/fullstory.php/aid/1871/Why_workers_count.html
Call to action on NCPs
A formula to confront weaknesses in implementation of the agreed system to handle breaches of OECD Guidelines for Multinational Enterprises was presented this week by TUAC to coincide with its submission to the OECD annual meeting of National Contact Points, which took place in Paris June 21, 22.
The TUAC General Secretary said lessons learned from application so far of the NCP system show that efforts must be renewed to fine tune the operation of NCPs. Far from indicating improvement in corporate compliance the smaller number of cases in 2005/2006 highlights the need for clarification of issues linked to parallel legal proceedings.
"More work remains to be done to unlock the full potential of the Instrument" stressed John Evans. Awareness of the Guidelines was insufficient, he said, adding that it was essential to bring the Instrument into the mainstream of the OECD's other activities and programmes.
In order to remedy deficiencies in the system as it is actually operating TUAC's call to action addresses four problems and solutions:
· Fight failures to execute NCP-centred dialogue
· Identify indications of differences and overlaps between parallel proceedings and the scope of the Guidelines
· Exposure to extensive delays in procedures or to administrative failures should lead NCPs to make their best efforts to engage the parties in dialogue.
TUAC observers note that the refined formula begins and ends with the promotion of dialogue among involved parties to achieve consensus.
Teacher unions seek greater input on PISA
(Paris, 5 September 2006)
Teachers around the globe are concerned about the impact of large-scale international testing and its uses and abuses in development of national education policies.
For this reason, Education International has been working closely with the Trade Union Advisory Committee (TUAC) to ensure that teachers' concerns and proposals for improvement are heard in the development of one of the world's most important educational assessment programs: the OECD's Programme for International Student Assessment (PISA).
Administered every three years, now in 30 OECD countries and 27 partner countries, it tests the achievement of 15-year-olds in reading, mathematical and scientific literacy. The results attract intense media interest in all participating countries. However, simplistic interpretation by politicians and others can be misleading, and can run counter to goals defended by teacher trade unions.
This week the first-ever joint seminar on PISA will take place at the OECD headquarters in Paris, jointly hosted by EI and TUAC. The event has attracted the participation of more than 90 educators and scholars, including representatives of teacher trade unions from 44 member organizations in 26 countries.
The seminar will address three main topics:
| | |
| --- | --- |
| | How to interpret PISA: the analytical use of the data from PISA 2006; |
| | Parent-teacher interaction and learning: the optional parent questionnaire 2006 and the teacher survey 2007; |
| | Future strategies for PISA and the early involvement of teachers through their unions. |
"PISA has an undeniable impact on public opinion and policy, and can provide valuable insights on issues of quality and equity in education," said EI General Secretary Fred van Leeuwen.
"We want to make sure that the teachers are involved through their unions in all stages of PISA, that the focus is on the interests of the pupils, and that the data is not misinterpreted by politicians for their own purposes.
"This meeting will give EI affiliates direct access to the key people running PISA, and we will be aiming to reach agreement with OECD on the future involvement of unions," van Leeuwen added.
St. Petersburg G8: Question of follow-up remains paramount
In the face of stiff competition from rival agendas of sovereign member governments, the St. Petersburg commitment to develop human resource policies in concert with business, higher education and labour together with the agreement to track progress on defeating worldwide HIV/AIDS, must count as not insignificant victories by trade unions.
With energy security, infectious disease, and education declared as paramount issues by the G8 summit's host President Putin, inclusion of labour as an integral component of the education agenda did not satisfy the ambitions of international trade union representatives but was seen definitely as positive.
"Our governments will promote dialogue and synergies " the G8 Education document stated, " with business, higher education and labour, to develop sound higher education and human resource policies." http://www.en.g8russia.ru/docs/
At the pre-summit trade union leaders meeting with the Russian leader on July 6, the trade unions fought to get three key aspects of concern introduced on the summit agenda as transversal issues: creation of decent work, workers rights and the delivery on past G8 promises. The G8 web-site published the trade union statement and President Putin undertook to submit proposals to fellow leaders. http://www.en.g8russia.ru/page_work/24.html
John Evans, General Secretary of TUAC, cited the G8 text on Education for Innovative Societies in the 21st century ( see paragraph 3 above) , adding that " The issue is follow-up and implementation as President Putin accepted in the Kremlin meeting with trade union leaders before the summit itself."
To read the TUAC Evaluation of the St. Petersburg summit, Click here:

The Chairs conclusions are available on the G8 web-site : http://en.g8russia.ru/docs/25.html
Unions call for a coherent G8 reporting framework
'Business-Union' Accord Could Bolster G8 HIV/AIDS Pledges
Paris, Wednesday 12 July, 2006
The G8 Summit leaders who are meeting in St. Petersburg later this week could satisfy the joint demands of business and trade unions by creating a yearly reporting framework to deal with the pandemic.
The International Organisation of Employers (IOE) and the International Confederation of Free Trade Unions (ICFTU) last week agreed to tackle HIV/AIDS through joint workplace actions in nearly 135 countries where they both have national organisations.
However, the Chair of the Global Unions HIV/AIDS Advisory Committee, Alan Leather, says the ability of these global organisations to deliver effective responses to the disease will depend on the G8's decisions later this week. The trade unions have called on the G8 to set up a permanent Working Group, tasked with mainstreaming the pandemic in the routine deliberations and preparations for each Summit meeting - a function that unions say would require no new resources.
A Global Union delegation met with the Russian President Vladimir Putin last week following a year-long lobby by unions to convince the G8 to establish a mechanism that would regularly report on HIV/AIDS progress. At the meeting President Putin agreed to the importance of following up on the G8 decisions with respect to health issues.
Last week the IOE and ICFTU joined efforts to reiterate the call for a G8 working group, and Leather says their agreement could lead to unprecedented initiatives by business and trade unions to save millions of lives. But, he insisted, "there must be an overall framework to assess the progress in achieving G8 commitments so that actions can be modified and strengthened".
"Currently, the most effective way to assess how any group or government succeeds or fails in fulfilling promises on HIV/AIDS is through UNAIDS and its co-sponsors. Its monitoring mechanism must now be mainstreamed into the G8 process, so as to yield a coherent reporting framework that assesses how promises are fulfilled," Leather said.
"This would build on the encouraging suggestion by Mr. Putin that the G8 Health Ministers meet prior to each Summit, as well as current discussions about an annual reporting and updating process, led by UNAIDS". Leather said that such measures would satisfy the trade union request for a permanent G8 Working Group but admits that an overall reporting framework, mainstreamed into the G8 process, would eventually be needed.
G8 Can Help Foster Workplace Actions to Tackle HIV/AIDS
The IOE-ICFTU agreement builds on the ILO Code of Practice on HIV/AIDS and the World of Work, which promotes the setting up of joint 'employer-trade union' workplace programmes (including joint occupational health & safety committees) to deal with prevention, training, care and treatment. The Code of Practice also protects workers' rights and promotes actions to deal with discrimination. Leather says the ripple effect of widespread workplace actions on entire communities could be tremendous, especially in countries most seriously affected by the disease.
Both the ICFTU and IOE were involved with the International Labour Organization (ILO) to develop the Code of Practice, together with governments. A first global business-trade union agreement was signed three years ago and an agreement for the African region is already in force, providing convincing proof that employer and trade union cooperation would be well-positioned to bolster the G8's promises for HIV/AIDS and to transform them into measurable realities.
Leather says trade unions are convinced that setting concrete workplace, community and national targets that relate to the G8 is the only way to ensure real success. "With the assistance of UNAIDS, we have developed our own country-by-country profiles for HIV/AIDS and these have allowed us to develop our own tracking and reporting processes that could feed into the G8."
The trade union country-by-country profiles on HIV/AIDS are available at:
English:http://www.global-unions.org/pdf/ohsewpT_4a.EN.pdf
Français:http://www.global-unions.org/pdf/ohsewpT_4a.FR.pdf
Español: http://www.global-unions.org/pdf/ohsewpT_4a.SP.pdf
Leather says there is no shortcut: "A well defined mechanism to ensure that G8 Summits are guided by accurate information for assessing progress is clearly needed now."
In talks with G8 Unions President Putin acknowledges
labour rights issue in Summit discussions

A few days before the Saint-Petersburg G8 summit, President Putin received a global union delegation in the Kremlin in Moscow on July 6.
The delegation of G8 and international trade union leaders marked a historic moment as Western, Japanese and Russian trade union leaders met in the context of the G8 which would have been unthinkable only 15 years ago. The delegation was jointly led by Mikhail Shmakov, President of the Russian trade union centre - the FNPR and by John Sweeney in his capacity as President of the Trade Union Advisory Committee to the OECD. Sweeney is also head of the American trade union body AFL-CIO.
In response to the unions call to introduce labour rights and jobs into the G8 talks as "transversal issues" in the summit discussions on energy, education and health, President Putin gave a firm commitment to raise the importance of union rights in the summit discussions. The proximity to the summit venue to countries linked with major rights abuses such as Belarus was raised and Guy Ryder, General Secretary of the ICFTU, who pressed Putin use his influence to change the situation. He agreed to receive a submission from the unions on the situation in Belarus as follow-up. There was also a major discussion on the issue of the security of Russian energy supplies to Europe and its impact on jobs and competitiveness. The unions also called for more intensive follow-up to past summit commitments on aid debt relief and development. One call in particular is expected to touch a nexus of concerns: the suggestion that a G8 working group be established to track progress on tackling the AIDs pandemic and the commitment to universal access to drugs for 40 million AIDs victims. Commenting on the outcome of the meeting John Evans, the General Secretary of TUAC, said "this was an historic meeting, which also went at length into substance where it was clear that the G8 presidency has read our submission and shares the need to reinforce unions to balance market driven globalisation with a social dimension".
To read the TUAC statement presented to President Putin, click here:

The news section of the official website of the 2006 G8 has also a report on the meeting, saying that President Putin promised union leaders to take their proposals to the G8 summit. To read the news report, click here: http://en.g8russia.ru/news/20060706/1168882.html
Union delegates put case for higher education as a public good
to OECD Education Ministers in Athens
Delegates representing TUAC and EI, Education International, the global union representing teachers and education workers, put the case for a new approach to public higher education and research at a high-profile meeting of OECD Education Ministers in Athens, Greece, this week (27-28 June). In doing so, they cooperated closely with ESIB, the National Unions of Students in Europe.
The theme of the Ministerial meeting was Higher Education: Quality, Equity and Efficiency. At a consultation prior to the official opening, Bob Harris, leading the TUAC/EI delegation, said that Ministers had "to put equity and equality of opportunity at the centre of our goals and value systems. Higher tuition fees, growing student debt and privatization all worked against equity", he said.
Representatives of TUAC, EI and ESIB pointed out that the growing commercialization of higher education had adversely affected the quality of education, and stated that "assuring quality in higher education also requires that governments and institutions recognize the importance of attracting and retaining qualified staff". They insisted that the path to efficiency required collegial governance structures enabling teachers, students and other stakeholders to participate in change, rather than having change imposed upon them. TUAC acknowledged the role of business as stakeholders, while also insisting on the role of the labour movement representing working families. TUAC and EI drew attention to the Universal Declaration of Human Rights, stating that "higher education shall be equally accessible to all on the basis of merit".
The TUAC/EI delegation found the contribution of employers, represented at OECD by the Business and Industry Advisory Committee (BIAC) to be constructive. BIAC recognized the importance of education for general development as well as vocational preparation, and supported the call on governments to accept their responsibilities. TUAC and EI questioned however the assumption that management models from the business world could be applied to higher education and warned that rules are needed for governing private sponsorship of research. Both TUAC/EI and BIAC supported the recently adopted voluntary guidelines of OECD and UNESCO for quality provision in cross-border higher education.
Learning that the Greek government had decided to shift the location of the Ministerial Conference 40 km outside Athens, to avoid student demonstrations regarding a bill on higher education reform in Greece (over tuition fees and privatization), the TUAC, EI and ESIB delegates traveled out to the conference site. The consultation with TUAC and BIAC was chaired by the Danish Minister for Education. He emphasized the importance of taking time for dialogue and full consultation with the social partners before introducing change (implicitly in contrast to the Greek approach of imposing change without dialogue).
At the official opening, the new Secretary General of OECD, Mr. Angel Gurria, former Finance Minister of Mexico, made a strong and controversial speech calling for change in Higher Education. He argued: `One model that surely doesn't work is the one which quite a few countries are saddled with, particularly in Europe. In these countries, higher education is publicly financed for the most part, but is inadequately resourced to meet the costs of expansion.' However, rather than arguing that governments should increase public funding of higher education, Mr Gurria stressed the OECD view "that contributions from graduates to the costs of study can be an efficient way of increasing resources." He also offered OECD's support for a new PISA for Higher Education, however the meeting concluded with no clear consensus on this matter.
EI, TUAC and ESIB representatives also participated in an open forum on the Future of Higher Education. Some of them intervened on the link between teaching and research in higher education, and the future scenarios being developed by the OECD Secretariat. Based on the outcome of an internal debate of the OECD project on the Future of Higher Education preceding the consultations and the forum, they outlined briefly key elements of a new scenario for a "Public Service University". Such a scenario is characterized by public funding, integration of teaching and research, tenure and academic freedom as well as equity of access for students.
E
urope

H

igher

E

ducation:

T

roubling

G

ap

R

emains

By supplying instruments of change in the form of advanced knowledge and the means to adapt to change, institutions of higher education wield special influence on the future along with huge responsibility.

The implications of this role were highlighted by the Trade Union Advisory Committee at an intergovernmental conference in Greece. In their consultative role at the meeting of OECD ministers of education near Athens, June 27, TUAC delegates voiced concern about underfunding of higher education systems in Europe and a failure by institutions to join efforts to make lifelong learning a reality for all.

Underpinning TUAC concerns were the following three points:
| | |
| --- | --- |
| | Higher education supplies and applies scientific knowledge which is the prime driver of change on the planet. |
| | It helps identify the skill-sets that societies must command if they are to survive and thrive. |
| | It fosters the development of the skills needed for all people to cope with economic and social change. |
"But higher education aims and policies are not yet adapted to the OECD consensus on lifelong learning for all," TUAC's consultative presentation stressed. "Higher education is integral to the strategy of training opportunities for adults."
Growing gaps between free-spending and parsimonious countries of the OECD in investing in higher learning are quite troubling. European countries in particular illustrate the current condition of investment in higher education.
Consider the difference between Scandinavia where public expenditure on higher education exceeds 2% of GDP and most European OECD countries where public expenditure on higher education remains below 1.2 % of GDP
The 2-plus% level of public expenditure in higher education expressed as a percentage of gross domestic product applies to Denmark, Sweden, Norway and Finland which invest a substantially higher proportion of public funds than the US.
On average OECD countries are spending annually 10.655 US-$ per student in higher education. That equals slightly less than 1.6 % of GDP.
."In order to ensure equal access and a high quality of higher education, governments must maintain and strengthen their role in providing the necessary funds," TUAC delegates stated. They also pointed out that a move to increase tuition fees where they already exist and to implement them where higher education is free of charge, would create new and bigger obstacles to talented young people than there are nowadays
.Moreover, they also emphasised that there is no evidence suggesting that tuition fees would promote better performance of higher education institutions or students. In their remarks TUAC delegates pointed out that private funding can only complement public funding. They also underlined that attracting private investment into research needs to be carefully balanced with appropriate mechanisms ensuring academic freedom of researchers as well as institutions.
To read the TUAC Statement click here :

Global Unions to call for jobs and human rights focus at the pre-summit talks with President Putin
As sherpas and other government officials tie down the last minute details in preparations for the G8 summit in St Petersburg next week, President Putin is to receive a global union delegation in Moscow on July 6.
The delegation of G8 and international trade union leaders will be led by John Sweeney in his capacity as President of the Paris-based Trade Union Advisory Committee to the OECD which represents 65 million trade union members. Sweeney is also head of the American trade union body AFL-CIO.
The unions will urge the Russian head of State to introduce labour rights and jobs into the G8 talks as "transversal issues" in the summit discussions on energy, education and health.
The proximity to the summit venue to countries linked with major rights abuses such as Belarus is hard to overlook, and the unions will press President Putin as G8 leader to insist on respect for workers' fundamental rights. They will also call for more intensive follow-up to past summit commitments on aid and development. One call in particular is expected to touch a nexus of concerns: the suggestion that a G8 working group be established to track progress on tackling the AIDs pandemic.
To read the trade union statement to be presented to President Putin click here:

D
eregulation of

L

abour

M

arkets is no '

C

ure for

U

nemployment'

(Paris, 13 June 2006)

The idea that deregulation can be a "remedy to cure unemployment" may have reached its 'sell-by date' as news of the OECD review of its 1994 Jobs Strategy (published June 13) spreads from specialised circles via mass media to the public at large, according to the Trade Union Advisory Committee to the OECD.
Speaking with regard to the publication of Employment Outlook 2006, John Evans, TUAC General Secretary, said the 30-member intergovernmental organisation is now in effect moving to a more "evidence-based approach". "The old approach of deregulating labour markets as a means of reducing unemployment has failed to produce the results that were promised" he said. As the OECD now says, "There is no single golden road to better labour market performance. After a decade of empirical observation we see that successful examples of improved performance are specific to national circumstances and history."
The Nordic economies above all show that it is possible to have strong social policies while maintaining high levels of employment. They have outperformed other models in terms of employment and poverty reduction.
The meeting of OECD Ministers in Toronto on 15-16 June will discuss what the Division of Employment, Labour and Social affairs is calling a facelift for its original 1994 Jobs Strategy. Use of the term facelift is seen by TUAC as an attempt to hold on to the claim that countries which implemented the Jobs Strategy Recommendations "consistently" performed better that those that did not.
However, the example of the Nordic countries as well as the employment performance of Ireland and Spain warrants a more far-reaching interpretation. Indeed Ministers at Toronto will be told that "many policies have stood the test of time and relevance but time passes and policy goals evolve".
TUAC has welcomed this "shift of emphasis". TUAC does not disagree with the "four pillars" of policy lessons drawn from experience, namely:
· Appropriate macroeconomic policies set according to actual circumstances
· Removal of impediments to labour market participation and job search
· Policies impeding demand in labour- and product-markets and
· Policies facilitating development of labour-force skill-sets.
However, the representatives of the world's labour movement still disagree with some of the recommendations which overemphasise the role of increasing "incentives" to work by calling for less generous unemployment benefits and for time-constrained entitlements. It assumes that the number of employable workers in an economy determines the number of jobs available. This is a false assumption.
The trade unions rather have emphasised the central contributions of both aggregate demand and investment in productive capacity to the achievement of full employment and the lifting of living standards.
To read the TUAC comments, click here:

A summary of the OECD Employment Outlook is available from the OECD : www.oecd.org
listening

to

the opinions of Social Partners"

(Paris 24 May 2006)

The 2006 OECD Ministerial Council, chaired by the Greek Prime Minister, Kostas Karamanlis focussed on the economic outlook, structural policy, OECD reform, and the trade negotiations. Ministers agreed on 'the importance of listening to the opinions of social partners". However, the meeting's conclusions gave few precise responses to the key issues that TUAC raised in the written statement and at consultations with the Ministers on the eve of the meeting, such as how to rebalance OECD growth between the US and Europe at high levels of output, demand and employment and by Europe expanding its own internal demand? What is a new agenda for structural policy given the rejection of working people of insecurity and precariousness of work? How to integrate China less disruptively in the global economy and how to deal with the employment and rights impact of the expansion of trade and investment? Against these benchmark the Ministers' conclusions fall short on key issues, the only language pointing to these issues is that they state that (in parallel to trade negotiations) "governments of OECD countries have responsibility vis-à-vis our own citizens, to ensure that our economies are effectively managed to provide equality of opportunities, while respecting the rights of, individuals and the needs of the community as a whole".

To read the TUAC Evaluation click here

Micro Needs Macro: How to Make Structural Reforms in Europe Really Deliver More and Better Jobs
In a joint reaction to the speech given by Jean-Claude Trichet, president of the ECB, at the OECD's Global Forum conference (22th May, Paris), the Trade Union Advisory Committee and the European Trade Union Confederation (ETUC) stress the crucial role monetary policy plays in transforming structural reforms into more and better jobs.
To address the challenge of globalisation, Europe needs an agenda of structural reform that enables its economy to moving upwards on the ladder of innovation and productivity in order to keep ahead of the competition of low wage economies.
TUAC and ETUC however underline that structural reforms are only able to deliver more and better jobs provided:
· Reforms are balanced. Productivity and workers' engagement in firms will suffer badly if the balance between the flexibility for firms and the security for the work force is missing. Excessive flexibility in labour markets is the worst enemy for the knowledge society. Labour market institutions such as unemployment benefits, job protection may need to be adapted but we should beware of 'throwing the baby out with the bath water'.
· Reforms are broadly 'owned'. Social dialogue and collective negotiations between autonomous social partners are the key to achieving balance in reforms, thereby increasing the likelihood of actual implementation of these reforms.
· Reforms are accompanied by pro– active aggregate demand policies. Improving aggregate supply and productivity needs to go hand in hand with expansionary aggregate demand policies in order to avoid the economy getting trapped in a situation of low confidence/low growth while undertaking structural reforms.
TUAC and ETUC regard price stability as a necessary but not sufficient objective. Price stability is only one dimension of a stability oriented monetary policy framework. The other dimension must be stabilising fluctuations in economic activity and the business cycle, as illustrated by the slump in growth in the Euro Area in 2001. TUAC and ETUC cannot accept the wisdom of raising interest rates in the Euro Area at a time core inflation is under control and the recovery still limited to a single engine of export demand growth.
TUAC Plenary Session Meets With OECD Secretary-General Elect
(May 22 2006)
The TUAC Plenary Session met on 22 May on the eve of the OECD Mministerial Council with Angel Gurria – the General-Secretary Elect of the OECD who will be taking up his post on the 1 June. The discussion covered TUAC's advisory role to the Organization where Mr Gurria insisted on the importnace social partner engagement. The reassessment of the OECD Jobs Strategy and the economic situation were also discussed. The Plenary Session also affiliated two new organizations – UNHIO from Norway and USO in Spain and elected the President of the Japanese trade union centre RENGO Tsuyoshi Takagi as TUAC Vice –President.
TUAC representatives meet the new Chair of the Economic Policy Committee of the OECD (EPC)
On May 15, back to back with the spring meeting of the Economic Policy Committee of the OECD (EPC) representatives of TUAC and BIAC met jointly with the new Chair of the EPC, Edward P. Lazear, who is also chairman of the US President's Council of Economic Advisors, and the chief economist of the OECD, Jean-Philippe Cotis, to present TUAC views on the short- and medium-term economic outlook. TUAC delegates expressed particular concern about growing imbalances in the global economy. They pointed out that the world's major economic regions remain unbalanced both internally and externally, which highlights the risk that macroeconomic and currency misalignments may destabilise the global economy. They also emphasized that in many OECD countries real incomes are dangerously depressed and wage growth has been delinked from productivity growth. The relative proportions of wages and corporate profits as a share of national income has shifted., undermining the purchasing power of working families. This creates an unsustainable situation. Moreover, they underlined the need to rebalance world growth by raising demand in Europe and Japan and strengthening job creation. In comparison with the past the current recovery has been feeble in terms of job creation. This applies not only to the US but also to a number of European countries. The latter are suffering from inefficiencies and slow growth caused mainly by the EU's economic policy system, as revealed by a recent study on "Economic Policy and Growth in Europe", released by the French Council of Economic Analysis. is The limitations of macroeconomic policy in maintaining sound economic conditions are a particular problem in Europe, according to the study, which makes mention of the absence of interaction with structural policies. Regrettably, the power of counter-cyclical fiscal policies is not used in the Eurozone to promote growth and employment. When it comes to counter-cyclical policies, Europe -the Eurozone- is at a disadvantage in every way compared to the US. The current Framework for macroeconomic policy makes it difficult if not impossible to implement counter-cyclical expansionary policies which interact with and facilitate structural reforms.
Key Worker Issues: Priorities for Climate, Energy &
Industry Policy Debates, announces UN CSD
New York, May 2006
A 50-strong trade union delegation lobbied for two weeks at the UN Commission on Sustainable Development (CSD) in New York this month and won the battle to include crucial worker- and employee- issues in the 2007 international policy discussions on climate, energy, air pollution and industrial development.
The activities of the trade union delegation at the CSD were coordinated by the International Confederation of Free Trade Unions (ICFTU) and Trade Union Advisory Committee to the OECD (TUAC).
Included in the agenda will be: employment transition, worker training & education, occupational health & safety, worker participation and ILO core labour standards.
After 30 thematic sessions in a country-by-country lobbying effort and a public- speaking schedule, representatives were rewarded with a CSD draft agenda that identified the clearest-ever mandate for incorporating employment transition in future implementation programmes.
Job Promotion, Decent Work,
Employment Transition & Worker Training
The report included various provisions to identify measures for the promotion of employment linked to pollution abatement, industry planning, transportation, energy efficiency and access; and especially access issues that relate to gender and youth employment.
In its most comprehensive list of proposals to date, the CSD covered skills training, worker education and decent work: "Industrial policy should strive to include social aspects of worker education and training programmes, with a focus on sustainable consumption and production to generate decent and meaningful jobs, create new market opportunities, and ensure reliable access by the poor to cleaner energy services," the report said. It touched on corporate responsibility and the importance of the role of the public sector as well as highlighting gender issues: "Women in particular must be given greater access to education on affordable energy services and cleaner fuels".
The report from the Chair specified that "ILO core labour standards were identified as being instrumental," in the improvement of the environmental and social performance of enterprises, including job health and safety.
Woeful Omission of Social & Corporate Accountability
Growing Importance of Country Profiles
Integration of the social, environment and economic pillars forms the basis of the trade union proposals to governments at the CSD. The Chair's report, however, scarcely touched on the tangible links to poverty alleviation and the MDGs. Not only this: absent from the report are references to corporate accountability and measures to implement them, such as the OECD Guidelines on Multinational Enterprises and the ILO Tripartite Declaration of Principles for Multinational Enterprises and Social Policy. The Chair alluded only to CSR issues. Trade unions and other Major Groups agreed to work together to strengthen both the social and corporate governance elements in 2007.
During CSD, Trade Unions met with representatives of other Agenda 21 Major Groups (Business, Farmers, Indigenous Groups, Local Authorities, NGO's Scientists, Women and Youth) and agreed to prepare joint country-profiling and lobbying at the 2007 CSD meeting. Co-operation on country-profiling looks destined to become a driving element in trade union relations with other Major Groups.
Trade Unions call on OECD Finance Ministers
to act on Job Creation
(Paris 19 May 2006)
The Trade Union Advisory Committee to OECD (TUAC) has called on OECD Governments to implement a coordinated package of measures to stimulate employment and reduce economic insecurity for workers whose jobs are threatened by globalisation.
In a statement to be presented to Ministers on the eve of the annual meeting of the OECD Council at Ministerial level (23 -24 May 2005), the trade unions' representative body also identified the key issues on which it called for Governments to take action. These included:
- Work with central banks and with social partners to boost domestic demand particularly in Europe and Japan so as to rebalance OECD growth and to reduce the danger of overcorrection of imbalances between OECD regions;
- Refocus the OECD Jobs Strategy so as to expand the potential for growth and the quality of employment through structural initiatives and investment in human capital, skills adaptation, and income security in the changing job market;
- Take urgent steps to meet the 2005 commitments to accelerate action to meet the Millennium Development Goals, by delivering on promises given to developing countries on debt relief and development assistance;
- Ministers must develop a raft of government policy responses to the employment impact of globalisation that reinforces core worker rights, reaffirms and strengthens the OECD Guidelines on multinationals, guarantees transparent corporate governance and develops best practice adjustment assistance.
The TUAC statement recalls that even after four years of "recovery", 36 million OECD workers are still out of work, while worldwide more than one billion workers are unemployed or underemployed, while nearly 1.4 billion are working in conditions of extreme poverty and struggle to survive on less than $ 2 a day.
The statement will be delivered to Ministers at consultations on the evening of 22 May by a TUAC delegation led by John Sweeney, President of TUAC and President of the AFL-CIO (United States) and other trade union leaders.
To read the TUAC statement click here

Structural reform policies are no 'magic bullet' to tackle unemployment
TUAC comments on the draft "Policy Lessons from Re-Assessing the OECD Jobs Strategy"
On Monday, 3 April 2006, the OECD's Employment and Social Affairs Committee (ELSAC) and the Economic Policy Committee (EPC) met jointly in order to discuss draft policy recommendations regarding the reassessment of the OECD Jobs Strategy. Prior to the deliberations of the committees, joint consultations with both TUAC and BIAC were held. The TUAC delegation, chaired by TUAC Vice-President Luc Cortebeeck from Belgium, emphasized that high unemployment across the OECD remains a serious challenge. Delegates welcomed that the draft policy lessons acknowledge that good labour market performance can be achieved and maintained by different policy packages. However, particular concerns were expressed because this was not appropriately reflected in the draft policy recommendations. Like the 1994 Jobs Strategy, they place excessive emphasis upon "reforming" labour market institutions to reduce unemployment. Moreover, they are biased in favour of policies pursued by so-called "liberal regimes", characterized by low levels of welfare benefits and limited taxation to fund these benefits, little employment protection and a limited role for collective agreements.
TUAC delegates expressed strong objections to the recommendation to weaken the role of sectoral collective bargaining by introducing opt-out clauses and to strengthen the role of employer-employee agreements at the level of the individual firm. It was argued that in order to prevent a cost-cutting race to the bottom and to protect workers, a wage floor provided by sectoral agreements is indispensable. Moreover, delegates emphasized that institutional changes in national bargaining systems should be left primarily to their key actors, trade unions and employers.
Moreover, TUAC delegates also underlined that macroeconomic policy, in particular institutional coordination and the structures of economic policy governance are of key importance for strategies successfully reducing unemployment and promoting employment. They referred to country case studies, suggesting that maintaining strong aggregate demand can be particularly effective if financial and monetary policies are closely coordinated with collective bargaining, based on social dialogue and consensus building.
To read more

Dead & Injured Workers Remembered,
28 April 'Commemoration Day' Is Beacon For Change
(Paris, 27 April, 2006)
Asbestos and HIV/AIDS is the main focus for the 28 April 'International Commemoration Day (ICD) for Dead and Injured Workers'.
Trade union leaders report that at least 8 million people will hear from workers and unions though some 12,000 activities organized in 115 countries or territories. The country-by-country summary of activities is available at: http://www.global-unions.org/pdf/ohsewpH_3c.EN.pdf (please check for periodic updates).
ICD figures from the UN's International Labour Organisation (ILO) show that more than 2 million workers die each year as a result of occupational injuries and work-related diseases, with some 160 million new cases of work-related illness annually.
The General Secretary of the International Confederation of Free Trade Unions (ICFTU), Guy Ryder, emphasized that the unprecedented level of mobilization has taken place because asbestos alone kills over 100,000 workers every year and nearly 37 million people involved in productive work are HIV-positive; two problems that will get worse if unchecked.
John Evans, the General Secretary of the Trade Union Advisory Committee to the OECD (TUAC) where the main organizing for 28 April took place says he expects this year's activities to spill-over into ongoing major international campaigns to stop the trade of asbestos and to stem the tide on HIV/AIDS.
28 April Spills Over To Global Asbestos Ban Campaign
He said that Global Unions would now step up international efforts to stop the trade of asbestos in the following countries:
Algeria, Angola, Azerbaijan, Bangladesh, Belarus, Belize, Bolivia, Botswana, Bulgaria, Cameroon, Canada, China, Colombia, Cuba, Ecuador, El Salvador, Guatemala, India, Indonesia, Iran, Kazakhstan, Korea (North), Korea (South), Indonesia, Iran, Morcocco, Oman, Pakistan, Panama, Romania, Russia, Senegal, Serbia, Sri Lanka, Swaziland, Syrian Arab Rep, Tunisia, Turkey, Turkmenistán, Uganda, Ukraine, United Arab Emirates, United States
Call for G8 HIV/AIDS Working Group To Intensify
Evans said Global Unions would strengthen calls that emerged from 28 April activities to convince the G8 to create a high-level permanent Working Group on HIV/AIDS. He said such a group was needed because HIV/AIDS is a workplace issue, affecting livelihoods, enterprise productivity and socio-economic security and that more effective follow through of promises made from one G8 to the next was needed. He said that trade unions in many developing countries had succeeded in obtaining the support of Civil Society and business and that trade unions intended to step up efforts over the next three months to build more support by governments and the public.
For more information, contact : royer@tuac.org
Lucien Royer
International Confederation of Free Trade Unions (ICFTU)
Trade Union Advisory Committee to the OECD (TUAC)
15, Rue Laperouse - 75016 paris, France
Tel (331) 5537 3737 Fax 4754 9828
TUAC Proposals Considered By
Environment & Development Ministers
Paris, Tuesday 10 April, 2006
The OECD yesterday released a summary of a special Ministerial consultation held last week with BIAC, TUAC and NGO's regarding the first-ever discussions of Environment and Development Ministers to identify joint work of ministries in Member States.
Heading the TUAC delegation at the OECD consultation with TUAC, BIAC and NGO's was Luc Cortebeek of the Confederation des Syndicats Chretiens de Belgique (CSC). "We must frame our strategies within concrete plans of action that capture synergies, avoid conflicts and take advantage of mutually reinforcing aspects of economic, social and environmental planning," he told the select group of members that met prior to the full meeting of Ministers.
"Great care must be taken to ensure that the funding of development projects by the OECD countries takes place in a coherent manner, as part of an overall coherent sustainable development plan", he said, emphasizing that funded projects must be linked to each other and also made to enhance objectives identified by recipient countries.
BIAC and NGO's also provided their own recommendations. However, a follow up summary of the consultation released yesterday shows that Ministers drew heavily on the input provided by TUAC: http://www.tuac.org\statemen\communiq\ComEnvEpocDcdDac06e8.pdf
The TUAC issues that were drawn into the summary for consideration by Ministers:
· The integration of environment and development cooperation policies should be seen in the broader framework of sustainable development and such integration requires linking long-term concerns to short-term economic, financial and social interests, including employment and health.
· Sound framework conditions are required including, e.g. transparent regulations, competent civil service and and educated workforce.
· Public-Private Partnerships (PPPs) are not a panacea and require careful oversight by government to ensure that objectives are achieved.
· Poor countries are more vulnerable to the impacts of global environmental challenges, including climate change, biodiversity loss, land degradation, unsound management of hazardous chemicals and others.
· Governments must honour their international commitment to poverty reduction (e-g. to achieve the 0.7% target of GNP as ODA).
· A wide range of MEAs – not only on the Rio Conventions, should be promoted to establishing more consistent policy and regulatory frameworks for poverty reduction strategies, including ILO instruments, with a view to promoting. synergies.
· Aim for a better co-ordination with OECD Annual Meeting of Sustainable Development Experts and devote more efforts to monitoring progress with regard to the Guidelines for Multinational Enterprises and the DAC Guidelines on Sustainable Development Strategies.
· Build upon the environmental and social interface in the OECD Environment Strategy for the First Decade of the 21" Century and to strengthen the co-ordination between environmental, social and other policies.
The OECD produced a discussion paper in advance of the meeting:
http://www.tuac.org\statemen\communiq\COM_ENV_EPOC_DCD_DAC(2006)5_ENG1.pdf
The TUAC provided a written submission, summarizing its views and responding to selected themes identified by the Ministers:
http://www.tuac.org\statemen\communiq\TUACSubmission2.pdf
Joint TUAC-ICFTU comments on the background papers
to the OECD Policy Framework for Investment
(27 March 2006)
TUAC, in cooperation with the ICFTU, has submitted further comments on the background papers to the OECD Policy Framework for Investment (PFI).
The PFI, which is due to be adopted by the OECD Ministerial Council in May, is directed primarily at non-OECD governments and is designed to set out the policy framework that according to OECD experience will be most successful in attracting foreign direct investment that contributes to development. It is not a legally binding agreement as the failed Multilateral Framework for Investment was designed to be and according to the OECD the PFI is a "non-prescriptive checklist". However clearly the PFI could be an instrument that influences strongly how governments frame their investment promotion strategies.
The background papers, covering investment policy, trade policy, competition policy, tax policy, corporate governance, responsible corporate conduct, human resources, infrastructure and public governance, are intended to accompany the PFI. They will thus play a role in the implementation and the interpretation of the PFI.
To read the TUAC-ICFTU comments click here

ICFTU/TUAC contribution to the Review of the GRI Guidelines: five areas where the current 'G3' proposal can be improved
The Global Reporting Initiative (GRI) is currently engaged in the revision of its reporting Guidelines, referred to as 'G3'. A proposal of revision is posted for public consultation at the following address www.grig3.org. The TUAC and the ICFTU have submitted a joint contribution to that phase of the review process:
* a labour marked-up of the G3 with specific proposals of amendments to the public consultation text,
* a cover note explaining the rationale for our proposals of change.
The comments are regrouped under five main objectives.
* The G3 should reflect the broader interests of society and sustainable development.
* The G3's social performance indicators should be both valid and relevant.
* The new "Disclosures on Management Approach" sections should be reinforced
* The G3 should remain neutral vis-à-vis commercial "assurance" providers and other CSR-related initiatives.
* The G3 should align reporting guidelines with good corporate governance practice
Contact information: at the ICFTU, Dwight Justice,
at the TUAC, Pierre Habbard & Anabella Rosemberg
Contribution de la CISL et du TUAC à la révision des Lignes Directrices du GRI : Cinq domaines où le G3 peut être amélioré
Le Global Reporting Initiative (GRI) est actuellement engagé dans la révision de ses lignes directrices, dénommée G3. Une proposition de révision est en ligne pour consultation publique à l'adresse suivante: www.grig3.org. Le TUAC et la CISL ont soumis une contribution conjointe à cette phase du processus de révision :
* Une version marquée du projet G3 mettant en évidence des propositions syndicales d'amendement.
* Une note introductive expliquant les principales motivations de nos amendements.
Ces propositions d'amendement peuvent être regroupées en cinq grands objectifs.
* Le G3 doit refléter les intérêts de la société et du développement durable en général ;
* Les indicateurs de performance sociale du G3 doivent être valides et pertinents ;
* Les nouvelles sections « Informations sur l'approche de management » doivent renforcées ;
* Le G3 doit resté neutre vis-à-vis de l'industrie de la certification/vérification et d'autres initiatives RSE à caractère commercial ;
* Le G3 doit être aligné sur les bonnes pratiques de gouvernement d'entreprise.
Contact: à la CISL, Dwight Justice ,
au TUAC, Pierre Habbard & Anabella Rosemberg
Aporte de la CIOSL y la TUAC a la revisión de las Guías GRI: cinco áreas donde la propuesta G3 puede ser mejorada.
La Global Reporting Initiative (GRI) ha comenzado un proceso de revisión de sus guías para la elaboración de memorias, llamada G3. La propuesta de revisión de estas guías han sido publicadas para consulta publica en www.grig3.org (en inglés), (en castellano). La TUAC y la CIOSL presentaron conjuntamente su aporte a esta fase del proceso de revisión.
* Una versión sindical corregida (sólo en ingles) "labour marked-up of the G3" con propuestas de enmiendas específicas al texto sometido a consulta publica.
* Una nota introductoria (en castellano) . que explica las principales razones de nuestras enmiendas
Los comentarios de la CIOSL y la TUAC pueden ser reagrupados en cinco objetivos principales:
* El G3 tendría que reflejar el interés general para la sociedad y el desarrollo sostenible.
* Los indicadores de desempeño social del G3 tienen que ser válidos y relevantes.
* La nueva sección sobre Información sobre el enfoque directivo deben ser fortalecidas.
* El G3 debe permanecer neutral con respecto a los organismos de verificación y otras iniciativas de RSE.
* Se deberían alinear los procedimientos de información del GRI con buenas prácticas de gobierno corporativo.
Contactos: en la CIOSL, Dwight Justice,
en la TUAC, Pierre Habbard & Anabella Rosemberg
Contribution of the Trade Union Movement to the Paris Conference on Innovative Development Financing - Practical measures at last!
Paris, 1 March, 2006
The international conference held in Paris from 28 February to 1 March marks a new phase in the international community's efforts to increase and diversify development aid mechanisms. An international solidarity levy on air-tickets to finance an international facility for medication purchases will come into operation by the end of the year, piloted by a group of countries. An important step forward was also taken to further multilateral dialogue, with the announcement that a pilot group on innovative financing is to be set up.
"The labour movement warmly welcomes this new phase in the implementation of innovative development financing mechanisms," stated ICFTU general secretary, Guy Ryder. "Governments have a responsibility to reach the millennium development goals. Innovative sources of financing must be prioritised. But let's make it very clear: these new mechanisms must supplement not replace traditional public development aid, which is targeted to reach 0.7% of the donor countries' GDP."
"Until now, there has been a lot of talk about the issue of innovative financing, and very little concrete action," said John Evans, general secretary of the Trade Union Advisory Committee (TUAC). "This Paris summit symbolically marks the shift from theory to practice. The implementation by the end of the year of an international solidarity levy on air-tickets should set the ball rolling on the diversification of sources and, in particular, highlight the role that the international financial markets could play. The ball is now in the court of the G8 Summit to be held Saint Petersburg in July."
The chief aim of the millennium goals to be reached by 2015 is to reduce poverty. In terms of financing, the international community has set itself the target of reaching public development aid equal to 0.7% of the donor countries' GDP. Today, such aid barely reaches 0.25% (OECD-DAC figures). The Paris conference brought together some 60 government ministers and representatives of international organisations - including the IMF, which hosted a panel on taxing financial transactions – as well as representatives of the trade union movement and other international solidarity organisations. Jacques Chirac, Gordon Brown and the Chilean Government were the veritable champions of these new initiatives. On the margins of the summit, France and the United Kingdom agreed to formally link their respective projects on the taxation of international transactions and an international finance facility. Following on from the conference and the implementation of the air-ticket levy project, the constitution was announced of a Pilot Group gathering several dozen countries – France will head the secretariat - to further dialogue and reflection on innovative financing.
Contribution du Mouvement Syndical à la Conférence de Paris sur les Financements Innovants du Développement: « Enfin des Actes Concrets ! »
Paris, 1er mars 2006
La Conférence internationale, qui s'est tenue à Paris du 28 février au 1 mars 2006, a marqué une nouvelle étape dans la mobilisation de la communauté internationale pour accroître et diversifier les sources de financement du développement. Un projet pilote de contribution internationale prélevée sur les billets d'avion pour financer une centrale d'achat de médicaments sera mis en œuvre d'ici la fin de l'année par un groupe de pays pionniers. Parallèlement, le dialogue multilatéral se poursuivra avec l'annonce de la constitution d'un Groupe de pilotage sur les financements innovants.
« Le mouvement des travailleurs accueille favorablement cette nouvelle étape dans la mise en œuvre de financements innovants pour le développement» a déclaré Guy Ryder, Secrétaire général de la CISL. « Les gouvernements sont comptables de la réalisation des objectifs de développement du millénaire. Les pistes de financement innovant doivent être une priorité. Mais soyons très clairs : ces nouveaux mécanismes doivent s'ajouter, et non se substituer, à l'aide publique au développement traditionnelle, dont l'objectif est de 0,7% du PIB des pays donateurs » a-t-il ajouté.
« Dans le débat sur les financements innovants, il y a eu jusqu'à maintenant beaucoup de discours, et très peu d'actes concrets », a déclaré John Evans, Secrétaire général du TUAC (Commission syndicale consultative auprès de l'OCDE) aussi présent lors de la conférence. « Ce sommet à Paris marque symboliquement le passage de la théorie à la pratique. La mise en action d'ici la fin de l'année du projet pilote de contribution de solidarité sur les billets d'avion doit lancer une véritable dynamique sur la diversification des sources et en particulier sur le rôle que peuvent jouer les marchés financiers internationaux. Nous donnons maintenant rendez-vous au Sommet du G8 à Saint-Pétersbourg en juillet prochain.»
Les objectifs du millénaire qui doivent être atteints en 2015 ont pour but principal la réduction de la pauvreté. En termes de financement, la communauté internationale a fixé pour objectif d'atteindre une aide publique au développement équivalente à 0,7% du PIB des pays donateurs. Aujourd'hui cette aide atteint péniblement les 0,25% (chiffre OCDE-CAD). Cette conférence à Paris a rassemblé quelque 60 ministres et représentants d'organisations internationales – dont le FMI qui a animé un panel sur la taxation des transactions financières – ainsi que des représentants du mouvement syndical et d'autres organisations de solidarité internationale. Jacques Chirac, Gordon Brown et le gouvernement chilien ont été les véritables initiateurs de ce nouvel agenda. En marge du sommet, la France et le Royaume-Uni se sont accordés pour lier formellement leurs projets respectifs de taxe sur les transactions internationales et de facilité financière internationale. Dans la suite de cette conférence et la mise en œuvre du projet pilote de contribution sur les billets d'avion, il a été annoncé la constitution d'un Groupe de Pilotage réunissant plusieurs dizaine de pays – la France en assurant le secrétariat – qui poursuivra le dialogue et la réflexion sur les financements innovants.
TUAC and ICFTU urge unions to contribute to the public comment period on the OECD Draft Policy Framework for Investment
TUAC has written to its affiliates and partner organizations urging them to submit comments on the OECD Draft Policy Framework for Investment (PFI) to the OECD online consultation: http://www.oecd.org/investment. The Policy Framework, which is due to be adopted by the OECD Ministerial Council in May, is directed primarily at non-OECD governments and is designed to set out the policy framework that according to OECD experience will be most successful in attracting foreign direct investment that contributes to development. It is not a legally binding agreement as the failed Multilateral Framework for Investment was designed to be and according to the OECD the PFI is a "non-prescriptive checklist". However clearly the PFI could be an instrument that influences strongly how governments frame their investment promotion strategies. The OECD consultation document that can be downloaded from the OECD Website consists of a checklist of issues covering ten priority areas of policy, together with annotations that draw on longer OECD background reports. The policy scope is wide including for example tax, csr, infrastructure, human resource policies as well as investment promotion.
TUAC, in cooperation with the ICFTU, has been participating in consultations with the OECD on the PFI for the last 18 months alongside BIAC and NGOs and we have submitted at several stages written comments that we have reported on the TUAC website. Compared to the previous drafts, improvements have been made to the current version of the PFI for example with regard to the chapters on investment promotion and facilitation and human resource development. However, the union view is that it remains an imbalanced document that emphasises investor rights far more than the need for governments to have choice over their domestic development strategies. The OECD Guidelines on MNEs only have passing references in the PFI.
TUAC working together with the ICFTU has listed in the attached comments a number of priority points that should be redrafted in the PFI. And have urged affiliates and global union partners to use these points to make comments on the PFI on the OECD online consultation. The deadline for comments is the 10th of February.
If you require further information please contact Veronica Nilsson nilsson@tuac.org or Pierre Habbard Habbard@tuac.org at the TUAC secretariat.
To read the TUAC comments click here

(Paris, 30 January, 2006)
A recently-released document by the United Nations Environmental Programme (UNEP), summarizing the outcome of an international meeting of trade unions provides the basis for a new and broader platform for action by the global trade union movement on the environment and sustainable development.
The UNEP document arising out of the first International World Trade Union Assembly on Labour and the Environment 15-17 January in Nairobi Kenya was welcomed by John Evans, General Secretary of the Trade Union Advisory Committee to the OECD (TUAC), who was the rapporteur for the drafting of the final trade union Resolution which was endorsed by the participants attending the meeting.
Evans noted that representatives of UNEP, the International Labour Organisation (ILO) and World Health Organisation (WHO) also supported the development of a common programme of action with trade unions. He said that the willingness by UNEP and other UN agencies to recognize trade union participation in protecting the environment was an important step forward.
The UNEP document, "The Final Resolution of The Trade Union Assembly", reinforces the new trade union commitments on sustainable development by defining a focus for future cooperation on climate change, chemicals, occupational & public health, corporate social responsibility, as well as equity and access issues affecting poverty. The document also lays out a framework for future campaigns on such issues as HIV/AIDS, accessibility to water and the banning of asbestos. It is available at:
English: http://www.global-unions.org/pdf/ohsewpO_6d.EN.pdf
Français: http://www.global-unions.org/pdf//ohsewpO_6d.FR.pdf
Español: http://www.global-unions.org/pdf//ohsewpO_6d..SP.pdf
During the Assembly the Spanish Environment Minister Christina Narbona highlighted the importance of trade union involvement in defining new patterns and models of development. The Governments of Argentina, along with representatives from Business, NGO's and women also attended the meeting and expressed support for the process.
"What was most significant at the meeting was the degree of commitment expressed by elected national and international trade union representatives as well as experts from both the North and South to work with the UNEP, ILO and WHO on the most urgent problems facing us – how to achieve sustainable development," said Evans.
The General Secretary of the International Confederation of Free Trade Unions (ICFTU), Guy Ryder, went further to suggest that the agreement reached by the meeting could serve as basis for a major body of work for a new international trade union organization that is likely to be created next November, when a history-making trade union unification will take place.
The significance of the Assembly to the global quest for sustainable development was subsequently noted by UN Secretary-General Kofi Annan attending the World Economic Forum in Davos, where he welcomed the new initiatives being taken between the trade union movement and UNEP. During the Assembly's concluding session UNEP Executive Director Klaus Toepfer said he was impressed by the Assembly's concentration on tangible action. He said the problems of creating decent and secure jobs in the context of sustainable development remained the same but that the Assembly had produced some new ideas for the goals that might be achieved.
Evans noted the high degree of enthusiasm exhibited by the parties to the meeting, saying that he saw a much clearer understanding amongst participants of the role that workers and trade unions will have to play in the world's workplaces, negotiating with employers as well as in communities to bring about the changes which are needed. He warned, however, that the greatest challenges still lie ahead.
"We now have to shift our efforts to convincing more governments and employers to work with us on joint projects that can yield concrete results", he said. "In the next six months, for example, one of our aims must be to deliver the messages coming out of the Kenya Assembly to Member States attending a number of intergovernmental meetings; UNEP itself, as well as the World Health Organisation, the OECD, the CSD, the G8, the ILO and the UN General Assembly."
A special website was created for the Assembly, where programme information and background documentation for the meeting can be obtained: http://www.WILL2006.org<![if !supportNestedAnchors]><![endif]>
Evans reported that a Workbook initially produced to frame discussions at the Assembly would soon be replaced by an updated version, which incorporates the results of workshop deliberations. In some respects, he said, the Workbook will serve as the implementation document for the Assembly's adopted resolution. In addition, UNEP is set to release its own summary of the discussions that took place in Nairobi.
The Assembly was coordinated with UNEP by the Sustainlabour Foundation – an international trade union Foundation, based in Spain.
For more information contact Lucien Royer.
TUAC obtains "Observership" status at OECD Working Party on Private Pensions
The TUAC has been granted formal observership status to the OECD Working Party on Private Pensions (WPPP), the highest participation status for non-member states. The WPPP deals with all regulatory aspects of occupational pre-funded pension schemes, and has developed several Guidelines and Recommendations over the past three years. Issues covered by the WPPP include governance of funds, relations with asset managers, funding and benefit security rules, and protection of plan members' rights. To assist the TUAC participation in the work of the WPPP, an informal group of labour experts on pension regulation is being set up by the TUAC Secretariat and will be chaired by Mr Bob Baldwin, former director of the Economic & Social Department at the Canadian Labour Congress.
The OECD WPPP comprises all OECD member states, as well as Colombia, Estonia, Russia, Singapore, India, Israel and the following organisations: World Bank, IMF, International Social Security Association (ISSA), International Actuarial Association (IAA), European Federation for Retirement Provision (EFRP) and the Asociación Internacional de Organismos de Supervisión de Fondos de Pensiones (AIOS, covering Latin America).
More info at OECD Private Pensions webpage

OECD to appoint Angel Gurria as new OECD Secretary General
OECD Ambassadors have agreed to move ahead to appoint the former Mexican Foreign Minister Angel Gurria as OECD Secretary General next June when Donald Johnston steps down. The report of the Dean of the Ambassadors together with the C.V. of Mr Gurria is available on the OECD website. TUAC has written to Mr Gurria setting out trade union views on the future vocation of the OECD and expects to meet with him as soon as practicable.
New

OECD Document Adds Spice
To

Upcoming

Trade Union–Business

Enviro

Meeting
A short six page document issued by the Organisation of Economic Cooperation and Development (OECD) today contains case studies that highlight trade union pathways for effective workplace actions to protect the environment and implement sustainable development.
The discussion document is available at:
English: http://www.tuac.org/Echanges/05MarsOECDdiscLMP-e.pdf
Français (available soon): http://www.tuac.org/Echanges/05MarsOECDdiscLMP-f.pdf
The discussion document was made public in advance of a 1st March first meeting the OECD is organizing in Paris with representative from its Business and Trade Union Advisory Committees to discuss possible workplace actions to protect the environment and implement its policies, nationally (see annex below for information on trade union meeting this March First at the OECD in Paris).
Are brought into scope, the following trade union case studies:
| | |
| --- | --- |
| | Canadian trade union and employer collective agreement, highlighting the use of joint workplace committees, |
| | German trade union, NGO, employer and government joint energy conservation plan, |
| | Italian trade union, business and government agreement to address transportation problems through "mobility" managers; |
| | Norwegian & Russian trade union plans for cleaner production, training and education, |
| | Spanish trade union, business and government agreement to oversee the national implementation of climate change mitigation, |
| | Swedish TCO label of computer and technical products and national framework for a "workplace checker." |
International projects that can serve as models for what the OECD refers to as voluntary initiatives are also highlighted:
| | |
| --- | --- |
| | 42 GUF Framework agreements and their connection to environment, chemicals and occupation health and safety, |
| | ICFTU – IOE agreement on HIV/AIDS and the TUAC country profiles that serve to implement it. |
For more information see below or contact
Lucien Royer
International Confederation of Free Trade Unions (ICFTU)
Trade Union Advisory Committee to the OECD (TUAC)
15, Rue Laperouse - 75016 Paris, France
Tel (331) 5537 3737 Fax 4754 9828
Royer@tuac.org
Energy and Tourism
Top Biggest Ever Gathering of Environment Ministers

9th Special Session of UNEP's Governing Council/Global Ministerial Environment Meets for First Time in West Asia

Dubai/Nairobi, 31 January 2006 – The largest ever gathering of environment ministers will take place in the United Arab Emirates (UAE) next week for forward-looking discussions on how best to deliver sustainable energy and more environmentally-friendly tourism.

They will be attending the 9th Special Session of the United Nations Environment Programme's (UNEP) Governing Council/Global Ministerial Environment Forum.

Nearly 130 environment ministers and close to 160 countries have so far agreed to participate, along with the presidents of the Gambia and Switzerland.

Klaus Toepfer, Executive Director of UNEP, said: "There is every sign that we are seeing a renaissance in the commitment to global environmental issues. This is being driven partly by the soaring demand and price for fossil fuels".

"It is also being fuelled by a growing recognition, especially by rapidly developing countries that environmental degradation cannot continue. That it is now the bottleneck to future economic development. That a healthy environment has a lot to do with fighting poverty and delivering a stable and more peaceful world," he added.

"This is underlined by the large participation of environment ministers, along with members of civil society and industry coming to West Asia. We are also delighted to be in this region and the UAE in particular," said Mr Toepfer.

"It is the first time we have held our Governing Council in this part of the world. The commitment of the late Sheikh Zayed to environmental causes, the importance of energy and tourism to this country, makes Dubai the ideal venue," he added.

The gathering will also take place as the country celebrates the awarding of the $1 million Zayed International Prize for the Environment.

Kofi Annan, the United Nations Secretary General, will be honoured on the evening of 6 February with the top Global Leadership prize for his commitment to sustainable development.

The awards ceremony will serve as the opening for the Governing Council/Global Ministerial Environment Forum which takes place between 7 and 9 February.

UNEP will launch its Global Environment Outlook Year Book 2006 outlining the state of the global and regional environment, with a special focus on energy and air pollution.

Other highlights include the International Conference on Chemicals Management which takes place between 4 and 6 February.

Here it is hoped that governments will adopt the Strategic Approach to International Chemicals Management, putting the world on track to make and use chemicals in a way that minimizes damage to human health and the environment.

In doing so governments will also put the world on track to meet the chemicals commitments made at the World Summit on Sustainable Development in 2002 in the Johannesburg Plan of Implementation.

Delegates from civil society, including trade unions,
will meet between 5 and 6 February.

TUAC calls for changes to OECD Policy Framework for Investment
At OECD meetings this month to discuss the OECD "Policy Framework for Investment" TUAC urged governments to take a balanced approach and not to focus too narrowly on investment incentives. The TUAC delegation argued that the Framework must not encourage developing countries to attract short term investment at the expense of broader social and development needs.
The Framework, although non-binding, is designed to give guidance to developing country governments on how to create an "investment friendly" environment that attracts investment. It will form part of the broader OECD initiative on "Investment for Development".
The Framework is also intended to advance the implementation of the UN "Monterrey Consensus" adopted in 2002 aimed at increasing both official assistance and its impact on development. The Monterrey Consensus set out ten areas of policy as important for investment: investment policy, investment promotion and facilitation, trade policy, competition policy, tax policy, corporate governance, corporate responsibility, human resource development, infrastructure development and financial services and public governance. These areas are treated in ten background papers.
Based on the background papers and OECD instruments such as the OECD Guidelines for Multinational Enterprises, the OECD has compiled a "checklist" of questions for government self-assessment and priority setting.
The OECD intends to release the draft Framework for public comment in January 2006.
To read the TUAC statement on the draft background paper on human resource development, click here.
To read the TUAC statement on the draft checklist of questions, click here.
Will 2006 Conference: Trade Unions Agree Action on Environment
with Key UN Bodies
Nairobi 15-17 January 2006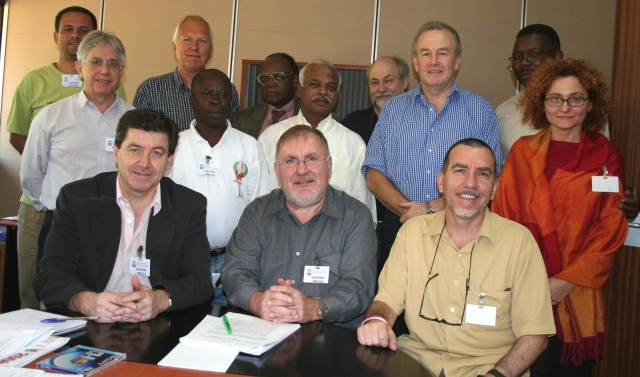 Steering Committee of the Assembly
This week's Trade Union Assembly on Labour and the Environment in Nairobi concluded today with a series of undertakings from the trade union movement and key United Nations bodies.
The Assembly brought together more than 150 trade union representatives from developing and developed countries along with environment and sustainable development experts, governments and UN representatives. TUAC was on of the co-organisers of the Conference.
The UN bodies ILO, UNEP and WHO affirmed their commitment to supporting trade union engagement on sustainable development, while the trade union organisations set out plans to extend practical work on sustainable development, building on programmes which are already in place. The Assembly also mapped out steps for joint follow up actions involving the UNEP, the ILO and the WHO.
The assembly agreed on major objectives including strengthening the links between poverty reduction, environmental protection and decent work, integrating the environmental and social dimensions of sustainable development with a rights-based approach, and establishment of effective and democratic governance to ensure sustainable development. The Assembly also recognised that urgent action on climate change has to be taken, and that sustainable production and consumption patterns will have to be promoted.
Visit link... http://www.will2006.org/news.php?subaction=showfull&id=1137678019&archive=&start_from=&ucat=3&x=releases
(Back Left-Right) T. Marcelos (CUT Brazil), R. Wilson (NZTUC), A. Kailembo (ICFTU-AFRO), J. Decaillon (ETUC)(Centre Left-Right) L. Royer (ICFTU/TUAC), G. Rajasakaran (ICFTU-APRO), J. Evans (TUAC), B. Nshalintshali (COSATU South Africa), L. Martin (SustainLabour), (Front Left-Right) G. Ryder (ICFTU), W. Thys (WCL), J. Nieto (SustainLabour)
WILL 2006: Trade unions mobilise for joint action
on labour and the environment
Nairobi 15-17 January 2006
Nairobi is hosting the global Trade Union Assembly on Labour and the Environment, an event organised by the United Nations Environment Programme (UNEP), in conjunction with the International Labour Organisation (ILO), Sustainlabour and the United Nations Global Compact Office. The aims of this important conference bringing together trade union leaders from the around the globe include promoting trade union action on the environment and sustainable workplaces, reinforcing the social and labour dimension of sustainable development, and strengthening the relationship between trade unions, industry, other major groups, UNEP and other UN bodies to advance with the environment and sustainability agenda. It will also provide an opportunity to map the trade union movement's objectives in terms of environment-related issues such as climate change, energy, chemicals, health, water, or corporate social responsibility.
In 2004, the UNEP commissioned an analysis of the current and potential role of trade unions in the processes leading to sustainable consumption and production. Prior to that, during the World Summit on Sustainable Development in Johannesburg (2002), a high level meeting organised by the ICFTU, TUAC and UNEP entitled "Fashioning a New Deal" had identified the links between viable working conditions and sustainable management of the environment. The meeting led to an agreement aimed at establishing a joint work programme on labour and sustainable development.
For the trade union movement, its role in the promotion of sustainable development is self-evident. Decent employment, poverty, development and the environmental are issues that are intrinsically linked. The conclusions of the Assembly will no doubt be encouraging and contribute the implementation of realistic trade union initiatives linked to the environment. Leaders from the ICFTU and the World Confederation of Labour will address the Assembly alongside the speakers from UNEP. http://www.will2006.org/
Trade unions address world climate COP11 Assembly
& join the UNFCCC Formal Programme of Work
On Friday December 8 trade unions addressed the governments from throughout the world about climate change. During the closing plenary the Secrétaire Conféderal de la Fédération Des Syndicats De Belgique (FGTB), M. Daniel Van Daele provided a wrap-up of trade union activities during the UNFCCC's 12th Conference of the Parties. He also outlined the programme of work on climate change for trade unions over the next year.
To read the address click here:

To read the full trade union news on climate change click here:

La Dérégulation du Marché du Travail n'est pas un 'Reméde au Problème du Chômage'
(Paris, 13 juin 2006)
L'idée selon laquelle la dérégulation serait un « remède au problème du chômage » a peut être atteint sa 'date de péremption' au moment où la version révisée de la Stratégie de l'OCDE pour l'Emploi, définie initialement en 1994, est publiée officiellement le 13 juin et se diffuse via les medias des cercles d'experts vers le grand public. Telle est la conclusion qu'en retire la Commission Syndicale Consultative auprès de l'OCDE (connue sous son acronyme anglais, TUAC).
S'exprimant à la veille de la publication du rapport « Perspectives de l'emploi de l'OCDE 2006 », John Evans, Secrétaire Général du TUAC, note que les trente Etats-membres de l'Organisation de Coopération et de Développement Economiques, se rapprochent de fait d'une « démarche factuelle » des problèmes de l'emploi. « La vieille école du tout à la dérégulation du marché du travail pour combattre le chômage n'a pas atteint les résultats escomptés », a t-il ainsi déclaré. De son côté l'OCDE indique qu'il « n'y a pas de voie unique menant à un marché du travail performant. Après une décennie d'observations empiriques, nous notons que les exemples d'améliorations sont spécifiques aux circonstances nationales et historiques »
Les économies nordiques ont montré qu'il était possible de concilier des politiques sociales fortes, tout en maintenant un taux d'emploi élevé. Ces performances sont bien supérieures à celles d'autres modèles quand il est question d'emploi et de lutte contre la pauvreté.
Les ministres de l'OCDE qui se réuniront les 15 et 16 juin à Toronto (Canada) discuteront de ce que la Division Emploi, Travail et Affaires Sociales appelle un simple « ravalement » de la Stratégie pour l'emploi définie en 1994. Pour le TUAC, l'utilisation du terme « ravalement » reflète avant tout une volonté de préserver l'idée selon laquelle les pays qui auraient appliqué les recommandations de la Stratégie auraient obtenu de meilleurs résultats, et de manière constante, que ceux qui ne les auraient pas appliquées.
Et pourtant, l'exemple des pays nordiques ainsi que les performances en termes d'emplois de l'Espagne et de l'Irlande, appellent bien au contraire à une évaluation bien plus tranchante de la Stratégie. Les Ministres présents à Toronto retiendront que certes « plusieurs politiques ont passé le test du temps et de la pertinence, mais que le temps passe et que les objectives politiques évoluent ».
Le TUAC salue ce changement dans les orientations d'analyse. Le TUAC n'est pas opposé aux « quatre piliers » qui sont proposés pour tirer les leçons des expériences passées, à savoir :
· Des politiques macro-économiques appropriées tenant compte des circonstances présentes,
· L'élimination des barrières à la participation au marché du travail et à la recherche d'emplois,
· Les politiques freinant la demande sur le marché du travail et des produits, et
· Les politiques facilitant le développement des compétences de la main d'œuvre.
Cependant, les représentants du mouvement syndical mondial maintiennent leur désaccord profond avec certaines des recommandations qui surestiment le rôle des mesures « d'encouragement » à l'emploi, notamment en appelant à la réduction de la durée et du montant des indemnités de chômage Une telle approche part en effet de l'hypothèse – fausse – selon laquelle le nombre de travailleurs disponibles dans une économie déterminerait le nombre d'emplois disponibles. Pour atteindre l'objectif du plein-emploi et de l'élévation des niveaux de vie, les syndicats au contraire mettent l'accent sur la contribution centrale que jouent tant la relance de la demande globale que l'investissement dans les capacités productives.
Pour lire les commentaires du TUAC (version anglaise uniquement), cliquez ici :

Un résumé du rapport « Perspectives de l'emploi de l'OCDE 2006 » est disponible sur le site de l'OCDE: www.ocde.org

Lors de sa rencontre avec les syndicats, le Président Poutine reconnaît l'importance de la question des droits du travail dans les discussions du Sommet
Le 6 juillet, à Moscou, quelques jours avant le Sommet du G8 à Saint-Pétersbourg, le Président Poutine a reçu au Kremlin une délégation syndicale internationale.
C'est un moment historique pour la délégation des responsables des centrales syndicales des pays du G8 et des organisations syndicales internationales, au cours duquel les leaders syndicaux occidentaux, japonais et russes se sont rencontrés dans la perspective du G8, ce qui aurait été impensable il y a seulement 15 ans. La délégation a été conduite conjointement par Mikhail Shmakov, Président de la centrale syndicale russe, FNPR, et par John Sweeney en qualité de Président de la Commission syndicale consultative auprès de l'OCDE(TUAC), et également Président de la centrale syndicale américaine AFL-CIO.
En réponse à la demande des syndicats d'introduire la question des droits du travail et de l'emploi dans les discussions du G8 comme « thème transversal » de ce sommet consacré à l'énergie, l'éducation et la santé, le Président Poutine a pris l'engagement de souligner l'importance des droits syndicaux dans les discussions du sommet. La proximité géographique du Sommet vis-à-vis de pays où se produisent des abus majeurs aux droits fondamentaux, comme la Biélorussie, a été évoquée et Guy Ryder, Secrétaire général de la CISL, a pressé Poutine d'user de son influence pour remédier à la situation. Le Président russe a accepté de recevoir une soumission des syndicats sur la situation en Biélorussie en tant que suivi. Une discussion majeure a également eu lieu sur la question de la sécurité des approvisionnements énergétiques russes vers l'Europe et son impact sur l'emploi et la concurrence. Les syndicats ont demandé aussi un suivi plus intensif des engagements pris sur l'allègement de la dette et l'aide au développement lors des sommets passés et ont fait part de leur proposition d'établir un groupe de travail du G8 pour évaluer les progrès accomplis dans la lutte contre la pandémie de SIDA et dans l'accès universel aux médicaments pour ses 40 millions de victimes. Commentant les résultats de la réunion, John Evans, Secrétaire général du TUAC, a déclaré : « C'est une réunion historique, largement concentrée sur les questions de fond, où il est clair que la présidence du G8 a lu notre soumission et reconnaît la nécessité de renforcer les syndicats et d'équilibrer la mondialisation par l'introduction d'une dimension sociale.
Pour lire la déclaration du TUAC présentée au Président Poutine, cliquez ici :

La section « News » du site internet officiel du G8 2006 contient également un rapport de la réunion, qui indique que le Président Poutine a promis aux leaders syndicaux qu'il soumettrait leurs propositions au sommet du G8. Pour lire le rapport, cliquez ici : http://en.g8russia.ru/news/20060706/1168882.html
Pré-Sommet avec le Président Poutine : Le mouvement syndical international demande au G8 de se concentrer sur l'emploi et les droits de l'homme
Alors que les sherpas et autres représentants gouvernementaux finalisent la préparation du Sommet du G8 à Saint Pétersbourg de la semaine prochaine, le Président Poutine recevra une délégation du groupe Global Unions à Moscou le 6 Juillet.
La délégation des leaders des centrales syndicales des pays du G8 et des organisations syndicales internationales sera conduite par John Sweeney en qualité de Président de la Commission Syndicale Consultative auprès de l'OCDE (TUAC), basée à Paris, qui représente 66 millions d'affiliés syndicaux. Il est également le Président de la centrale syndicale américaine AFL-CIO.
Les représentants syndicaux exhorteront le Président de Russie à introduire, dans les discussions du G8, les droits syndicaux et l'emploi comme « thème transversal » de ce sommet consacré à l'énergie, l'éducation et la santé.
La proximité géographique du Sommet vis-à-vis de pays où se produisent des abus majeurs aux droits fondamentaux, comme la Biélorussie, ne peut être ignorée, et les syndicats feront pression sur le Président Poutine en tant que hôte de ce G8 pour que les droits fondamentaux des travailleurs soient respectés. Ils demanderont aussi un suivi plus intensif des engagements pris sur l'allégement de la dette et l'aide au développement, et feront part de leur proposition d'établir un groupe de travail du G8 pour évaluer les progrès menés dans la lutte contre la pandémie de SIDA.
Pour lire la Déclaration syndicale présentée au Président Poutine, cliquez ici :

Les syndicats appellent les ministres des finances de l'OCDE
à agir sur l'emploi
La Commission syndicale consultative auprès de l'OCDE (TUAC) lance un appel aux gouvernements des pays de l'OCDE pour qu'ils mettent en œuvre un ensemble coordonné de mesures en faveur de la création d'emplois et de la lutte contre l'insécurité économique des travailleurs menacés par la mondialisation.
Dans une déclaration diffusée à la veille de la réunion annuelle du Conseil de l'OCDE au niveau des Ministres (qui se tient les 23 et 24 mai 2006), le TUAC met en outre l'accent sur les principaux points nécessitant l'intervention des pouvoirs publics :
- Travailler avec les banques centrales et avec les partenaires sociaux pour relancer la demande intérieure, notamment en Europe et au Japon afin de rééquilibrer la croissance au sein de l'OCDE et diminuer le risque d'une dangereuse sur-correction des déséquilibres entre blocs régionaux de l'OCDE ;
- Recentrer la Stratégie de l'OCDE pour l'emploi de manière à accroître le potentiel de croissance et la qualité de l'emploi au moyen d'initiatives structurelles fondées sur l'investissement dans le capital humain, l'adaptation des compétences et la sécurité des revenus dans un marché de l'emploi en évolution ;
- Prendre rapidement des mesures pour satisfaire aux engagements pris en 2005 en faveur d'une accélération des initiatives pour les Objectifs de développement du millénaire, en tenant les promesses faites aux pays en développement concernant l'allègement de la dette et l'aide au développement ;
- Répondre aux conséquences de la mondialisation sur l'emploi par des cadres de politiques interministérielles qui renforcent les droits fondamentaux des travailleurs, qui réaffirment et renforcent aussi les Principes directeurs de l'OCDE à l'intention des entreprises multinationales, qui garantissent la transparence de la gouvernance des entreprises et qui diffusent les meilleures pratiques en matière d'aide à l'ajustement.
La déclaration du TUAC rappelle qu'après quatre ans de soit-disant « reprise économique », 36 millions de travailleurs dans les pays de l'OCDE sont toujours au chômage, tandis qu'au niveau mondial plus d'un milliard de travailleurs sont sans emploi ou sont sous-employés. En outre, quelque 535 millions de personnes travaillent dans des conditions de pauvreté extrême, gagnant moins d'un dollar par jour.
La déclaration sera présentée aux Ministres lors d'une consultation dans la soirée du 23 mai par une délégation du TUAC conduite par John Sweeney, Président du TUAC et de l'AFL-CIO (Etats-Unis) et d'autres dirigeants syndicaux.
Pour lire la déclaration du TUAC cliquer ici